Counterpoint

In Counterpoint, two voices alternate, interleaving themes or welding together theme and response. Counterpoint often gives a clear sense of structure, a resonance of call and response reminiscent at once of liturgy and of casual dialogue. Counterpoint frequently arises naturally from character-centric narratives; for example, Forward Anywhere [54] uses a series of e-mail letters between its two central characters to explore their differences and establish their connections.
Counterpoint may be fine-grained. In Bubbe's Back Porch, Abbe Don's Bubbe moves constantly between tales of the distant past and tales of her own present, telling her great-granddaughter at once what it is like to be old and what it was like, long ago, to be a young Jew in old Russia [21]. Don moves between times and voices within a single lexia, echoing the patterns of traditional Yiddish storytelling (see, for example, the work of Sholem Aleichem [2]). It is also interesting to observe how the same counterpoint techniques can be adapted to decenter the subject[28], for here (as in Spiegelman's Maus [71]) traditional narrative techniques yield postmodern effects.
At a large scale, Don's hypertext is essentially linear, and the internal counterpoint (and the Missing Link patterns suggested by recurrent antique photographs) forms the chief hypertextual element. Adrienne Eisen's Six Sex Scenes [34], on the other hand, offers three or four outbound links from almost every node. Eisen's hypertext habitually alternates time frames: a writing space describing a childhood scene tends to be linked to scenes of adult life, and adult scenes tend to be linked to stories of childhood. Because Eisen, in Six Sex Scenes, works hard to avoid Cycles, the Counterpoint of childhood and adult experience is its most prominent structural element.
In "Interlocked" [52], Deena Larsen addresses a topic closely allied to Eisen's: how memories of childhood or adolescence find expression in the sexuality of the adult protagonist. Where Eisen uses Counterpoint as a substitute for the structural power of the Cycle pattern, Larsen builds her hypertext from two interlocked Cycles. These cycles, inspired by a classic quilt pattern, represent self-reinforcing traumas of past and present. Concurrently, links between cycles create a "quilted" counterpoint that represents the interplay of memory and action; the counterpoint, like quilt stitching, distorts the cycles while holding them in place.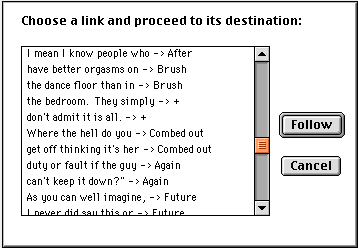 Interstitial counterpoint adds hypertext commentary notionally situated between writing spaces. Interstices have long been used for quotation, both epigraphic and ironic [13]. Links in Larsen's Samplers appear in a dialog box -- a conventional list of links that Storyspace authors can use to build an ad hoc multi-tailed link. The dialog is designed to be purely functional, showing a list of links by pathname and destination, but Larsen has chosen path names so that this list itself can be read as an interstitial poem. Edward Falco independently discovered the same, unexpected Counterpoint opportunity in his hypertext poetry, "Sea Islands", where the interstitial writing includes both path names and destination titles [26].
Counterpoint writ large, the dialogue amongst hypertexts proposed in "Conversations With Friends" [8] is constructed as Counterpoint among several independent hypertexts, each representing a recognizable point of view and each capable of responding to links and trajectories within its own frame and those of other active hypertexts.