Views of Hypertext '99
Since 1987, the annual ACM Hypertext Conferences have been at the center of hypertext research. The 1999 meetings were held in February in Darmstadt, Germany, hosted by ACM SIGWEB. Dr. Joerg Haake was the conference chair, and Prof. Uffe Wiil, as program chair, was responsible for assembling an exciting and varied program of new hypertext research.
Collections of snapshots are rarely of much interest, save perhaps to those who appear in them, but I hope that these pictures may convey a little of the excitement, intensity, and intimacy of these conferences. These are always superb meetings, free of marketing fluff. Next year's conference will be held in May, 2000, in San Antonio, Texas.
These pictures were taken, handheld, with a Nikon 900s digital camera. The images have been compressed to (or beyond) the bounds of propriety. Most used available light -- often in a dim auditorium -- because flash can be distracting to speakers and to the audience. Faults in the picture should be blamed on the photographer, not the camera.
If you'd like to use these pictures in some way, or if any of the scientists and writers in these pictures would like the full-resolution copies, I'd be happy to oblige. Email me at bernstein@eastgate.com .
A doorway from the the former artists' colony of Darmstadt.
Darmstadt was a center of Jugendstihl, the German version of Art Nouveau. The term "Jugendstihl" comes from the magazine Jugend -- the Wired of its era -- which popularized the style.
Jugendstihl, like hypertext, explores the relationship between linearity and nonlinearity.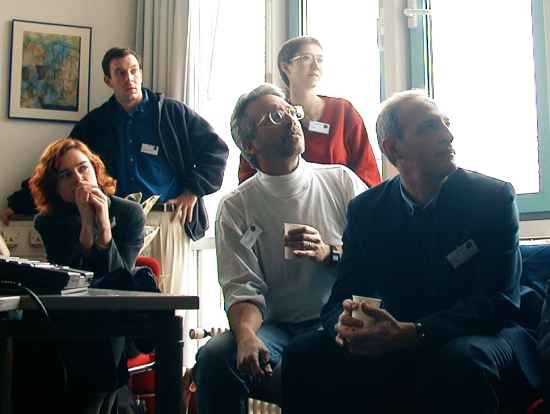 Each year, the Hypertext conference kicks off with specialized workshops on topics ranging from Open Hypertext Systems to pattern languages for hypertext design. Here, a few of the participants at the 1999 Writers Workshop study a new hypertext by Nick Traenker (Kent State, offscreen).